This is a 4 hour course. It will briefly touches up on the concepts of stress. The main theme of this course is to identify stressfull condition and resolve and remove the stress. It also provide tools to remove the stress full conditions in ones system. Though the course is designed based on principles of Pranic Healing, for attending and benefiting from this course one need not know anything about pranic healing or anything like that.
Testimonial
The following is a testimonial of Associate Dean and Principal of College of Agriculture, Acharya N G Ranga Agriculture University. This particular class was attended by a group 200 participants.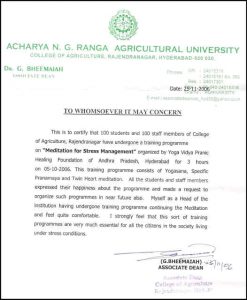 Cost of the course
This course will cost Indian Rs 300/USD 20 per participant. Minimum Number of participants 100.
Course Material
Pamphlet on stress management

Pamphlet on pranic healing,

Cassette on Meditation on Twin Hearts
Product and service descriptions are useful when people are shopping, but it's a great idea to give them some interesting "between the lines" information. 
Give tips that your employees or customers have discovered, ideas on how to maximize use, or suggestions for modifications. This little bit of extra effort can help drive interest and sales.